Last month, George Will revealed that Fox & Friends host Gretchen Carlson's former babysitter is Rep. Michele Bachmann (R-MN).
When [Bachmann] was a teenager in Anoka, Minn., she was a nanny for a young girl named Gretchen Carlson. Today, Carlson, a Stanford honors graduate who studied at Oxford, is a host of "Fox & Friends," the morning show on — wouldn't you know — Fox News Channel. See how far ahead the Vast Right-Wing Conspiracy plans?
The two reunited on Fox & Friends to discuss and promote Bachmann's anti-health care reform protest. Bachmann is known for her "colorful" use of words to incite fear, such as calling health care reform the "crown jewel of socialism" and the vote being the "Super Bowl of freedom." And there was the lovely, "look at the whites of their eyes of their members of Congress and say, 'don't you remember? I told you don't take away my health care." Of course, we all know the saying that you are to see the "whites of their eyes" before shooting an enemy. Naturally, Bachmann's rhetoric went unchallenged on FNC.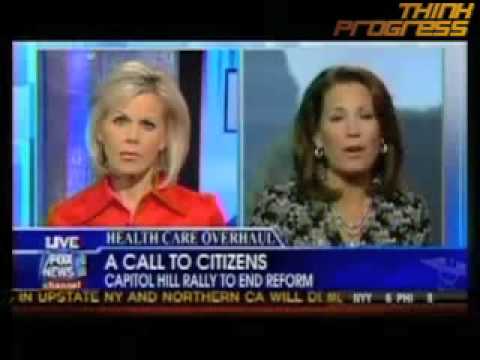 Share this article