It's getting cliche to say another day, another Fox News "mistake," but that's what Fox News is claiming now that they've been caught, yet again, using old footage from past events in stories run for current events.
Just recently Jon Stewart aired part of a Sean Hannity report about the Bachmann rally in which FNC used footage from the 9/12 protest in Washington DC that helped them portray the event as having a larger attendance than it really did. Now, Fox News has been caught using year old election footage in a story about Sarah Palin's book signing when Fox News host Gregg Jarrett stated that Palin is "continuing to draw huge crowds while she's promoting her brand new book. Take a look at — these are some of the pictures just coming into us."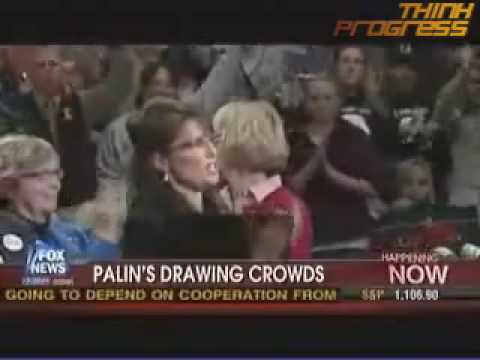 Fox News claims that this is a "production error" and that "serious discipline action" will be taken. It's rare that anyone at FNC will admit to any wrongdoing, but this is the second time in about a week that the same "mistake" has occurred. Keep in mind that Fox has gone to court to protect their right to lie. So, the chances that this was a mistake and that they even care are probably equal – slim to none.
Crooks and Liars' John Amato is filing an FCC complaint against Fox News for its misleading segment. You, too, can contact the FCC.
Update: A "production error" was made and the wrong video was used in this post. This has been corrected and "serious discipline action" will be taken – I'll slap my own wrist. Thank you, I'll be here all week…
Share this article